One title I want to do achieve before "mother" is "homeowner". With the state of the real estate market in my local area, the scarcity of appropriate landed properties is continuously disappointing. Scraping together a down-payment also hasn't been easy. How long have I stared at this mortgage calculator thinking I could use another 200k; but hey, couldn't we all?
Up-cycling is a solution that is both budget conscious and environmentally responsible.
LeeAnn is an independent designer who specializes in using re-purposed materials.
Giving things a second life is smart move that LeeAnne of eco-friendly Etsy shop
ThingsFromScraps
gets.
I selected this o
ut of her current collection of one-of-a-kind pieces.
The price tag $15CAD reflects the thought process required to render this top knot newborn hat from re-used jersey knit t-shirt fabric. The owl print deserves to be appreciated to it's full extent!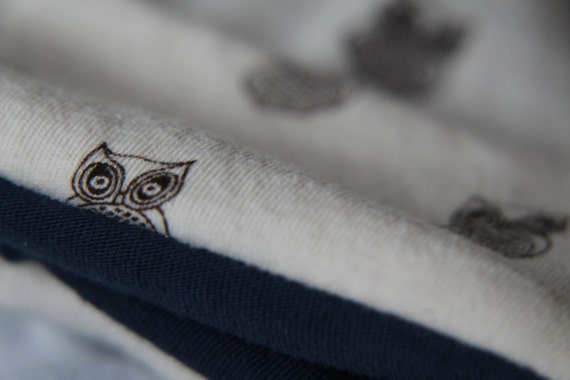 Fully lined in navy blue, the combination is undeniably winsome.
Okay, here's the legal part where I have to say that while I was given this product compliments of the sponsor, my opinions are unbiased and free of coercion.