Pacifier clips are basically a pacifier leash. They conveniently keep your child's soother attached to their clothing. No more dropped pacifiers on the ground!
At an affordable $4.50CAD, LittleBittyBandsBeyo Etsy shop's customizable clips will keep baby's accessories at-hand and are catered to your liking. Shop around! There are 44 different

high quality grosgrain ribbons and 3 different attachment styles to choose from!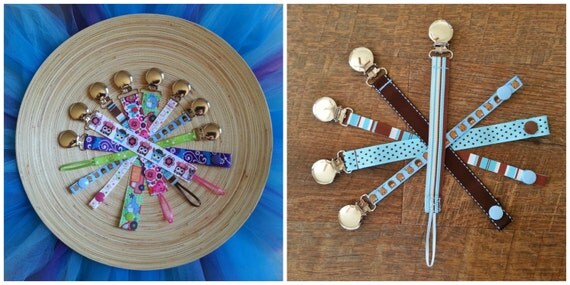 LittleBittyBandsBeyo
sent me this fabulous damask printed strap with carefully coordinated pastel pink plastic snap:
It's always a great feeling to find another fellow Canadian, but even better is that fact shipping
within the country
shipping is better for the environment and buying locally helps our
economy!
Okay, here's the legal part where I have to say that while I was given this product compliments of the sponsor, my opinions are unbiased and free of coercion.