Susie "

love(s) creating natural beauty product.

" With this in mind, she set up her Etsy shop

mybarenakebeauty
so others with a fellow appreciation can "be (themselves), naturally".
These handmade colorfully crocheted facial rounds adds a bit of frivolity into an environmentally conscious beauty routine. Rather than disposable cotton buds, go green by utilizing these reusable cleaning pads instead and then toss them into the wash for another go. They do shrink a little after a cycle of washer and dryer, but the generous sizing accounts for that already.
Tropical colors of clean white, lime, hibiscus pink, aqua, and citrus sherbet livens up your vanity.
mybarenakebeauty has an array of hues all in 100% cotton yarn to choose from to make up a set of 10 for $10CAD per your personal tastes.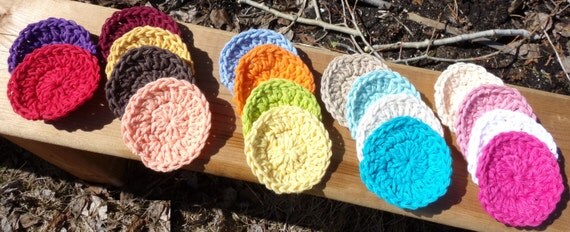 Okay, here's the legal part where I have to say that while I was given a sample of this product compliments of the sponsor, my opinions are unbiased and free of coercion