Recently, I've been on the look-out for all sorts of products smart mothers have developed using their own experiences. Modern motherhood is evolving!
I like the idea of these $15CAD brightly hued teething necklaces because they serve multiple purposes. It's something for mommy and something for baby; a 2 for 1 that both parties can enjoy. Such an innovation! Great accessory to shout out to the world "Look, I'm a mom!" and s
ure to interest and soothe a teething baby!
I contacted Jennifer Paton after coming across her perky Etsy store RaincoastMomandBabe and she generously sent me a string to review. Her bubble mailer arrived within half a week!
Besides the sassy combination of colours fuschia, lime, and green, these silicone beads are also free of BPA, phthalates PVC, cadmium and lead and come in a variety of textures, sizes, and round plus flattened elongated shapes. Interestingly, the pink gems are more malleable than the the other beads.
Each piece is safely knotted and the breakaway clasp is another well thought out touch.
The chewy material is superior to it's competitor crocheted wooden beads because it won't get soggy and is washable too!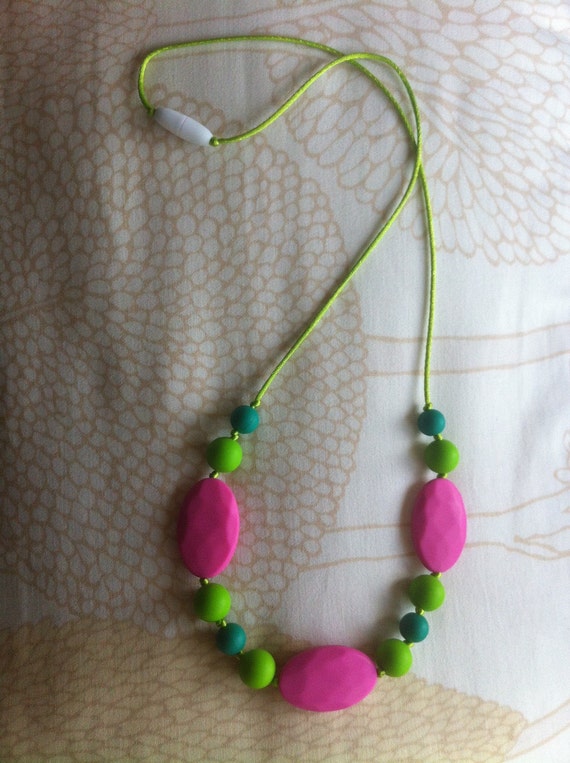 Okay, here's the legal part where I have to say that while I was given this product compliments of the sponsor, my opinions are unbiased and free of coercion.