As I'm gearing up for mommyhood, I've been finding out about all sorts of innovative products mothers have come up with from their own experiences. With the numerous baby options out there, smart choices are crucial in reducing clutter. These multi-function necklaces fits the bill: accessory for mom, play-thing for baby. I came across the idea of teething necklaces for that something soft and safe your little one can chew on and play with while you are carrying them. I think this is so practical and the fun bright colors are a very cute way to add punch to a mommy outfit!
I contacted Emily Thompson after browsing her charismatic Etsy store YouandMeTeething and she was such a good sport to send her Offside Silicone Teething Necklace my way!
I chose this modern anti-symmetrical piece for it's various shapes, sizes textures and the chic combination of colours, turquoises and cream BPA free silicone beads.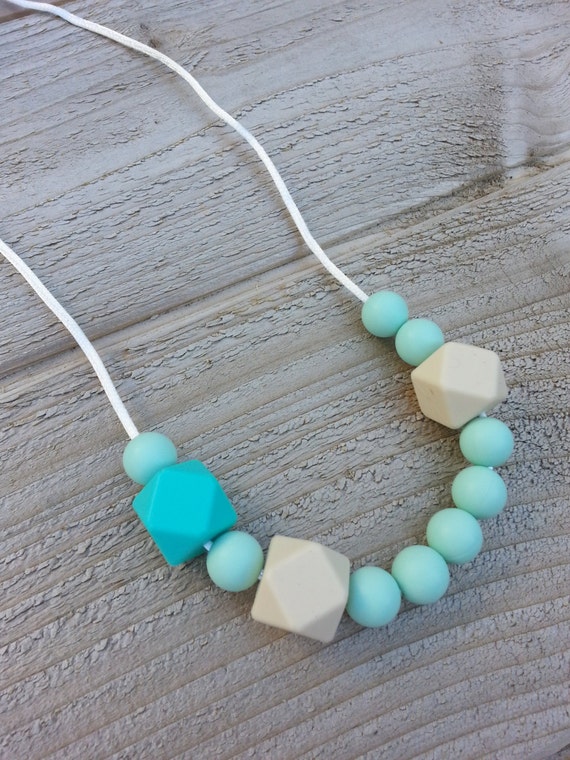 A half-necklace is a fantastic idea for the long-tressed mothers because the silicone parts won't get tangled in your hair. These necklaces have much thought put into the details. The smooth ivory nylon cord is super comfortable and the plastic breakaway clasp is easy to use.
At $20CAD, YouandMeTeething in comparison to what else is on the market, is fairly priced.
Also, being a fellow Vancouverite, within province delivery creates less of a carbon footprint. It'
s always a plus to support local small businesses!
Okay, here's the legal part where I have to say that while I was given this product compliments of the sponsor, my opinions are unbiased and free of coercion.