I was browsing Etsy when I chanced upon Karen at
BareBabies
. Her truly unique selection of fabrics incited me to reach out to her and she happily gave me one of her drool catching bibs as a cheeky pre-welcome baby gift:
Adorable technicolor umbrella-yielding skunks is such a delightfully offbeat print! Everytime I look at it, it just makes me smile!
There's plenty more to it than meets the eye. This bandana bib made in 100% organic cotton with furry minky fabric backing is made even more comfortable fitting by it's two adjustable snap settings. This quality bib will protect your child's tender skin from many messes throughout newborn to toddler stage.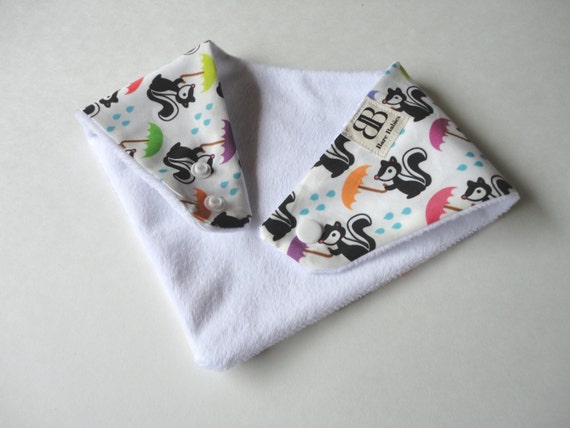 If your baby is an avid drooler, stock up on these thirsty bandana bibs!
Okay, here's the legal part where I have to say that while I was given this product compliments of the sponsor, my opinions are unbiased and free of coercion.